DiMeo Blueberry Farmer Consultant Services
With 100 years of blueberry growing experience and four generations of REAL blueberry farming experience, you will be in good hands as our farmer(s) teach you how to plant blueberries for your own blueberry farms. Look at our DiMeo Farms Facebook profile with over 32,000 happy DiMeo blueberry plant customers or supporters, some who drove (or flew) out from across the world. Not just to personally tour our DiMeo family farm or nursery operation, but to learn how to grow blueberries from the pros and get faster production results from REAL blueberry experts. We take our DiMeo customers from blueberry planting steps A to Z. Of course we do not charge our blueberry plant customers for advice when they buy blueberry bushes from us and become a customer. But if you are just looking for expert blueberry farmer consulting, DIMEO is your #1 choice. Give us a call now to ask questions: (609) 561-5905 as we prefer phone calls to e-mails. These many YouTube videos are just a small taste of the value we offer. Publicly traded companies have us on retainer right now as expert consultants.
Cultivating Blueberries in New Jersey with DiMeo Farms
Many of our DiMeo customers ask us how to cultivate blueberries using the best old fashioned farming methods for both draining blueberries and working the blueberry soil to reduce weed growth and increase blueberry plant vigor. Some ask "what causes that ridge" the blueberry plants sit on, well here is the answer... over time, as the blueberry bushes grow, you go up and down the blueberry field row in 2nd gear (high) and throw dirt up around the blueberry bushes. Commercial blueberry growers use this special "side winder disk" once a year for cultivation along with other special blueberry farm impliments that we can tell you where to buy at our discount prices. We not only have time tested blueberry farming and best blueberry growing methods that work, but we can get you just about any equipment at our cost.
Pruning Blueberry Bushes in Winter or Fall After Blueberry Season
Our professional DiMeo blueberry farmers can even teach you how to prune blueberry bushes properly after blueberry harvest is completed. There is a old fashioned blueberry pruning method to trimming blueberry bushes to increase blueberry crop yield per acre and maintain strong hardy blueberry bush growth that will produce more pounds of blueberries per acre. WATCH VIDEO BELOW of the DiMeo's trimming blueberry bushes in this video on how to care for blueberries after the annual blueberry harvest. Notice the 9' foot wide blueberry field rows, so when the 6' foot brush hog goes down the row, it has 1.5' clearance on either side. Notice blueberry bushes are 2.5' foot apart, yes our family plants them "that close" because thats proper planting for a commercial blueberry farm, and we also recommend that spacing for pick your own blueberry farms. Spacing blueberry bushes farther apart will not increase yield or productivity as some think it will. If you are homeowner who just wants to plant blueberry bushes in your backyard, of course you can space them farther apart with no problems:
Restoring Old Farm for Pick Your Own Organic Blueberry Farms
Look for new blueberry farm land for sale if you do not have existing farm land to grow blueberries. WATCH VIDEO BELOW on "farm preparation" at the restoration of an old grown-up farm into our new pick your own organic blueberry farms in New Jersey. Let an expert DiMeo blueberry farmer teach you how to start a new pick your own blueberry farm. We can teach you from step one, blueberry farm land clearing for growing blueberries to blueberry field soil amendment preperation. There are many ways to care for blueberries properly used old fashioned methods and to start planting blueberries with DiMeo's expert guidance. We help our blueberry bush customers restore old farms the old fashioned way. Let us teach you at no cost. Just buy blueberry bushes from us and you get all the advice, guidance and coaching for free. Just so you know, DiMeo cares about our forests, trees and environment, so if we ever have to knock down a tree, we try to plant two new trees to replace it on the existing or another project. We highly encourage reforestation programs to our customers.
Starting & Planting Organic Blueberry Farms with DiMeo Farms
As a DiMeo blueberry plant customer (at no additional charge), we will happily guide you through proper blueberry farm land selection and teach you what to look for before you purchase new farm land for growing blueberries. We can even possibly send an expert DiMeo blueberry farmer out to consult with you on-site and guide you through important steps of the blueberry planting process. With an expert DiMeo blueberry farmer, you are in the right hands. We restored an old grown-up farm property to start a new pick your own organic blueberry farm and agri-tourism family center as an example for our customers to learn from. We want you to be successful growing your own blueberries. Let the DiMeo's teach you, step by step. WATCH VIDEO BELOW and see our DiMeo blueberry farming family cleaning a new blueberry farm property to be restored into successful pick your own organic blueberry farm in New Jersey with properly amended soil for blueberries resulting in higher blueberry yield per acre.
DiMeo's Re-Planting Old Blueberry Bushes
If you have an old blueberry farm and want to learn how to plant blueberries or how to replant blueberry bushes, we can teach you the right way to replant blueberry fields. Many people don't know this, but if you read the fine print "replacing or replanting old blueberry bushes" falls under USDA Tree Assistance Program which means (if you qualify) they will pay you to replace old blueberry bushes on your property. For decades, our DiMeo family has been re-planting blueberries as the productive blueberry fields age. In the video below you will see our family re-planting blueberry plants at a 40 year-old blueberry farm field that needed to be replanted. You might be surprised just how hard Mike DiMeo, Sr. "cuts back" his blueberry re-plants, but its what he recommends. The new blueberry bushes should be cut back for proper transplanting of blueberry plants to minimize transplant shock. WATCH VIDEO BELOW and listen to the old-fashioned DiMeo blueberry re-planting method. Notice not to plant blueberry bushes too deeply when planting blueberries or re-planting blueberry bushes like these shown on Mr. DiMeo's old blueberry farm fields right after blueberry season was completed.
Our American Farming History
Humble Beginnings of DiMeo Family Farms
The various DiMeo family blueberry farms and blueberry nurseries can trace their roots back to around 1895 when then, Italian immigrant Michael DiMeo came over from (Abruzzo) Sulmona, Italy. He and his two brothers, Salvatore DiMeo and Nicholas DiMeo originally settled in Providence, Rhode Island. After starting a successful DiMeo farm and roadside stand in the Providence area, Salvatore decided to head up to Bridgewater, MA and started growing raspberries and became one of the biggest raspberry farmers in the country. But, his other brother, Michael DiMeo decided to head down to Southern New Jersey in search of higher quality farmland "without as many rocks" that would often break his farm implements. He took a simple job on the Pennsylvania Railroad to earn money to travel, and one day he discovered Hammonton, New Jersey. He liked the small town of Hammonton and it's central location to New York City, Philadelphia and Atlantic City.
Michael DiMeo then purchased about 35 acres of farm land in Hammonton. He started the now large DiMeo family farming operation with just a small blueberry patch behind his farm house. He worked out of a little self-made wooden barn. The original DiMeo Farms raised fresh blueberries, raspberries, strawberries, blackberries, dew berries, black diamonds, butternut squash, apples, peaches, pumpkins and sweet potatoes. Mr. DiMeo eventually built it into a larger family farm as the DiMeo's invested in more farm land during the depths of The Great Depression. Photoed below are second generation farmer Anthony DiMeo, Sr. (far right laying on board) and his farm workers planting old fashioned white yams in propagation hotbeds back in the 1950s. They were making sweet potato plants out of secondary potatoes because they couldn't afford to buy new plants. The DiMeo's have always been experts at making the best non-GMO plants the old fashioned way. The way our great-grandfathers did it.
"Farming is the future." - First Generation Farmer, Michael DiMeo
Michael DiMeo turned the DiMeo family farms over to his sons, Anthony DiMeo, Sr., Michael DiMeo, Jr. and William A. DiMeo, who slowly converted the entire DiMeo family farm operations to exclusively grow blueberries, blueberry plants and large mature blueberry bushes. Anthony DiMeo, Sr. began planting hundreds of acres of premium "ultra-heavy bearing" blueberry plants back in the early 1940s. He started out with only 500 blueberry plants. Over the many decades, Anthony DiMeo, Sr. and his brothers, including Frank DiMeo, Michael DiMeo, Jr., and William A. DiMeo built their own successful DiMeo-owned blueberry farms that today, through much sacrifice, have achieved great success. With all members of the DiMeo family and all various DiMeo family-owned farms all combined would likely encompass over 1000 acres of blueberries in the "blueberry captial of the world" Hammonton, New Jersey. Most of which is due to the life sacrifice of Anthony DiMeo, Sr.
"One of the Best Blueberry Farmers in America"


"Know your farmer and know your food and where it comes from. Our DiMeo blueberries and DiMeo blueberry plants come from hard work in our blueberry fields. There is no better job than being a local farmer." - Anthony (Tony) DiMeo, Sr.
Second generation DiMeo berry farmer, Anthony DiMeo, Sr. retired when he was 86 but still worked hard on the DiMeo family berry farm until he was almost 90 years old. He dedicated his entire life to passionately working the family fruit farms as a proud American farmer. His entire life was the DiMeo berry farm. He traveled very little in his life, but accomplished so much as he grew the family berry farms with every day of hard work and sacrifice. He depended on the farm to provide for the entire DiMeo family, and it always did. It still does to this day. His idea of farming fresh natural berries was quite simple: grow the finest blueberries and blueberry plants and always sell at a low price. Mr. DiMeo sold more blueberry bushes than anyone in America during his time. He was a volume guy. He loved to move higher volumes of higher-quaility blueberry plants at a lower price than anyone else.
Tony DiMeo Remembers Hard Times at DiMeo Farms
His mother making loaves of bread all the time. They ate lots of bread. In the fall, they would dig up all the cabbage and replant it by the house. They would cut down their corn and use the fodder to cover the buried cabbage and put it down a couple of feet deep to keep it from freezing.
The soft part of the corn husks were used to stuff their mattresses.
Earning $5.00 per week, working 12 hour days, 6 days a week on the DiMeo family farm. On Sunday's the DiMeo family would walk three miles to church and back. Every child went to church.
He had to shovel show sometimes 4' feet deep, just so the doctor could make a house-call. Back then the doctors only charged .50 cents for a house call. They delivered babies and everything at the farm.
In the winter, everyone in the DiMeo family slept downstairs and they used the upstairs to store the meat because it was so cold. The DiMeo homestead had only one stove and that was the only heat in the entire house. His mother, Nunzia "Nancy" DiMeo would pile bricks on the stove to heat them up and then when each child went to bed, she would put a brick at their feet with a blanket tent around it. If one of the children brought a glass of water to bed, in the morning the water would be frozen solid in the glass.
At Christmas, each kid would get a pair of socks, one banana, a small orange and an apple. His mother Nancy DiMeo would make goat butter and that was a real treat because they could not afford it.
His mother, Nancy DiMeo putting twelve loaves of bread in a basket, putting the basket on top of her head and walking up to three miles to deliver the bread to her customers, as a second income.
He remembers his mother, Nancy DiMeo saying "when you have a good time with someone, you never have enough time." He said, back then, people were very different. There were no arguments, everyone was happy and they would help one another. They were poor, but happy.
Old Wooden Crates for Sale - Original DiMeo Blueberry Crates
Here is just an example of an old fashioned blueberry packing house in the 1960s with old wooden blueberry crates (just like the ones for sale here at DiMeo Farms) featuring local Hammonton high school girls packing fresh organic blueberries during the summer blueberry season. Back then, there was no Facebook, no cell phones, and no certainly no texting every five seconds, but just good old fashioned hard work ethic that built true character and taught the real value of a hard days work to earn your own money working on a family owned blueberry farm in New Jersey: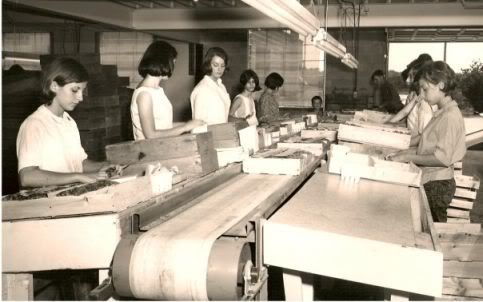 DiMeo's Giving Back to Charity & Community to Help Others
The DiMeo berry farming family was often active in local charity auctions. As some of the local New Jersey fruit farms often donated fresh organic berries and the "fruits of their labor" to the less fortunate. Even back in the 1960s, when then the DiMeo's planted just a 20 acre field of pick your own strawberries, second generation farmer Anthony DiMeo, Sr. (shown standing second from left), along with another local berry farmer, auctioned off their first picked strawberry crates of the season to benefit a children's charity. As shown here in this old farmer's fruit auction block photo taken in Hammonton, New Jersey: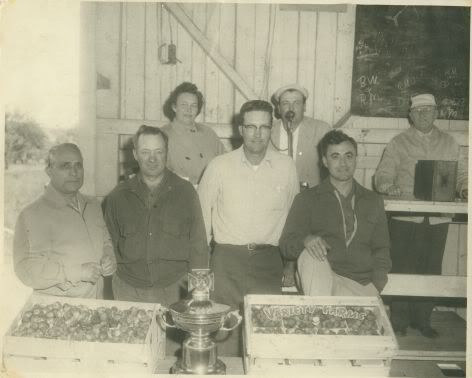 Living Longer with Blueberries - DiMeo Family Living Longer

Second generation farmer Anthony DiMeo, Sr. ran one of the DiMeo family berry farms for over 60 years. He is past-president of the Cooperative Fruit Auction Association. He and his wife Mildred "Millie" DiMeo of 62 years, have three children, including Anthony DiMeo, Jr. and many grandchildren. Three of their grandchildren, including Anthony, Erik and Michael DiMeo now separately carry on the fourth generation of the DiMeo family blueberry farming legacy. The DiMeo farms family has been blessed with impressive longevity. As Anthony DiMeo, Sr's mother, Nancy DiMeo lived until she was 98 years-old. His aunt (Nancy DiMeo's sister, Concetta Mancini) lived until she was 103 years-old. His older brother Joseph DiMeo, Sr. who was born and raised on the DiMeo family farm, passed on at almost 101 years old. Grandma Millie DiMeo is now 96 years old and headed toward making 100 years old, which is her goal. Watch the below video as much of the DiMeo family recently celebrated Joseph's 100th birthday on this memorable family day together in Hammonton, New Jersey. God bless Uncle Joe!!

The DiMeo blueberry farming family trusts their impressive longevity to healthy balanced diet on the family blueberry farms in Hammonton. Eating only fresh home grown organic blueberries and other organic berries that are safe as well as pesticide free and chemical free dark berries from Non-GMO berry plants like the DiMeo family grows and sells. The health benefits of dark berries and eating dark berries is tremendous. Growing your own fresh organic berries including blueberries is knowing your food and knowing where it comes from. But moreso, knowing your safest, most reliable farmer, YOU. Instead of trusting what comes in from overseas. Rembember, that many produce brokers and supermarkets only care about "shelf life, shelf life, shelf life" meaning that they will do or spray or treat the berries with just about anything they can get away with, so they last longer on store shelves. This is exactly why you should learn how to grow your own blueberries and other dark berries for health.

The Future of Blueberry Farming Profits

"New Generation Blueberry Farmers with Old Generation Values"

The grandchildren of Mr. & Mrs. Anthony DiMeo, Sr., including Anthony DiMeo III make up the now fourth generation of the DiMeo blueberry farming family in "the blueberry capital of the world" Hammonton, New Jersey. Several of the grandchildren intend to continue their grandfathers and great-grandfathers legacy of blueberry farming in America and production of high-quality, ultra-premium blueberries, blueberry plants, large mature blueberry bushes and non-GMO blueberry plant nursery. The blueberry farming practices of the DiMeo family have passed down from generation to generation. The fourth generation patriarchs, "America's first family of blueberries", now continue growing blueberries. WATCH VIDEO of second generation professional blueberry farmer Michael DiMeo, Sr. working with a fourth generation DiMeo farmer to prepare a blueberry plant order for one of our happy DiMeo wholesale blueberry plants customers at a DiMeo blueberry bush nursery in New Jersey:

Years ago, the DiMeo family made blueberry boxes by hand in DiMeo blueberry packing houses that were full of local high school students who worked all summer on the New Jersey blueberry farm for almost 12 hours a day. Back then, everything was made by hand, but today most things to do with packing or processing blueberries are all done by machine. Its amazing how much things have changed. Check-out video below of the blueberry box maker that never gets tired of making cardboard blueberry boxes 24 hours a day for fresh market blueberries as well as frozen blueberries for sale by the pound. When the fourth generation DiMeo grandchildren were just teenagers, they and many high school friends made these boxes by hand. This one box line could be turned up to 120 boxes per minute.


When growing blueberries, we often try to focus not only in growing the largest blueberry but the best tasting blueberry plant varieties. We seek a blueberry that has a nice size to it, good taste and an overall great flavorful blueberry. Blueberries that are picked for fresh and frozen markets are almost immediately taken to a blueberry packing facility and shipped all over the world. Our large blueberries fill lots of pints, and lots of 12 pint blueberry crates, making our DiMeo blueberry plant customers successful with larger blueberry yields per acre.

Sometimes when our "

home grower" blueberry plant customers drive (or fly) out to tour our DiMeo family farm operation

and buy blueberry plants farmer-direct from our blueberry bush nurseries in New Jersey, they get an opportunity to take a quick

tour of one of the DiMeo family's blueberry

packing houses

.

Below are two of our happy DiMeo blueberry plant customers (mother and daughter) who drove down from upstate New York to tour our blueberry plant nurseries and intending to buy 4' foot tall, bearing-size big blueberry plants to start organic blueberry farms in New York. During their group tour, they got a closer look at DiMeo blueberries on one of the inspection belts at IBF in Hammonton, New Jersey, the real blueberry capital of the world.
"We hope to help you discover sustainable dark berries, blueberries and other "super berries" such as Aronia black chokeberries. We will gladly offer blueberry growing tips, nostalgic blueberry farm antiques, safe home-grown berry farming techniques and other inspiring ways to celebrate the farm spirit at your home just like these happy DiMeo Blueberry Farms customers did when they came to to tour our family farm operation in New Jersey."
"Growing blueberries and growing ultra-premium blueberry plants with my grandfather is something I did since I was about 12 years old. I am proud to carry forward the DiMeo family legacy and old fashioned blueberry farming traditions as a fourth generation American farmer." - Anthony DiMeo


"Lessons from the DiMeo Farm" published newspaper article by fourth generation blueberry farmer Anthony DiMeo of DiMeo Fruit Farms & Non-GMO Organic Berry Plant Nurseries who is often featured in the media along with his cousins and various DiMeo family members in New Jersey.
"We intend to only cultivate exceptional, Non-GMO ultra premium blueberry plants, long-term satisfied Blueberry plant nursery customers and expert solutions to optimize the success of our berry plant customers in the blueberry fields, home blueberry gardens or backyard blueberry gardens."
- DiMeo Blueberry Farms & Farmer-Direct Blueberry Nursery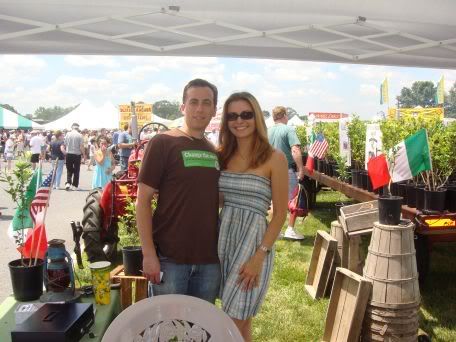 "What's old is now new again."
Mr. DiMeo and Helene of DiMeo's Retail & Wholesale Blueberry Bush Nursery proudly sponsored The Annual Red, White & Blueberry Festival in Hammonton, New Jersey. The annual Hammonton blueberry festival normally draws up to 15,000 blueberry lovers to "the blueberry captial of the world" Hammonton, New Jersey. Our New Jersey blueberry farms has happy blueberry plant customers from all across America who drive (or fly) out to tour our family-owned blueberry plant nursery operation and to personally meet with a DiMeo blueberry farmer to buy ultra-premium blueberry plants, raspberry plants, blackberry plants, aronia black chokeberry plants, thornless raspberry plants, thornless blackberry plants, cranberry plants, beach plum trees and other "super dark fruit" berry plants for sale at only $10 each by DiMeo's pick your own blueberry farms in New Jersey which also features our farmer-direct organic berry plant nursery center. Call us now: (609) 561-5905 to arrange a tour and book a farm wedding at our new agri-tourism farm which can give you great farm wedding ideas as we are the perfect farm wedding venue in New Jersey with a brand-new family farm facility.