BUY BETTER BLUEBERRY BUSHES FROM REAL FARMERS Low Prices. More Varieties. Fast Shipping.
Our 100 year-old family blueberry farm and organic blueberry plant nursery grows "the world's best blueberry plants" the old fashioned way. Our heavy bearing Non-GMO Heirloom blueberry plant varieties are ready to fruit. PLANT NOW to enjoy blueberries for Summer 2014. There is still time. Our multi-branched, bigger, bearing-size blueberry plants will grow big, sweet, better tasting blueberries. We will ship super-hardy large 3 year-old blueberry bushes to your door for less. We are a family of real old-fashioned blueberry farmers that sell direct to home blueberry growers and commercial blueberry growers all across America. Our $10 ultra-premium 4' foot large blueberry bushes are 100% natural certified blueberry plants that are PESTICIDE-FREE and CHEMICAL-FREE blueberry bushes. Stop paying high grocery store prices for organic blueberries. Grow your own blueberries and start saving money like these happy DiMeo blueberry plant customers featured on our DiMeo blog did when they drove (or flew) out to tour our family blueberry nursery operation.

We feel truly blessed and appreciate the over 32,500 LIKES on our DiMeo family farm Facebook page from our long-time customers and supporters all across America. Thank you for your business.
BLUEBERRY FARMER-DIRECT CUSTOMER SERVICE. EXPERT TIPS. FAST SHIPPPING.
CALL NOW FOR QUOTE or TO ORDER.
ONE CALL. ALL YOUR ANSWERS:
(609) 561-5905
DETAILS and Watch DiMeo's YouTube farm videos below. Free planting instructions included.
Call DiMeo Fruit Farms & Organic Blueberry Plant Nursery now to order ultra-premium blueberry plants or other "super fruit" berry plants and get them in the ground NOW to start selling farm fresh blueberries at your own pick your own blueberry farm, roadside farm market or enjoying fresh blueberries in your own backyard without paying expensive grocery store prices ever again. Just like these happy DiMeo Farms blueberry bush customers did for their famlies when they drove out (or flew out) to personally visit our DiMeo family blueberry farms and organic berry plant nurseries. We enjoy hosting our satisfied customers at our family Non-GMO organic berry plant nurseries. As you will see here on our Facebook page with over 32,000 LIKES from happy customers.
Let's start you off by watching a DiMeo blueberry farms video so you can see the BIG SWEET 100% NATURAL QUARTER-SIZE BLUEBERRIES that our DiMeo blueberry plants will grow for you. Our big bearing DiMeo blueberry bushes are "heavy fruit bearing" Non-GMO blueberry bushes. No other blueberry plants will grow as vigorous or bear as many pounds of GIANT SWEET BLUEBERRIES like DiMeo blueberry plants from "the blueberry capital of the world" in Hammonton, New Jersey. Watch and listen as we feature our mature DiMeo blueberry bushes and highlight our DiMeo quarter-size BIG sweet blueberries at one of the many DiMeo family blueberry farms in Hammonton:
DiMeo Offers 3 Different Sizes of Ultra-Premium Non-GMO Organic Blueberry Plants for Sale
1.5 Year-Old Blueberry Plants ($1.95) NOW ON SALE (100 plant minimum) these are for those of you who want to start a blueberry patch or pick your own blueberry farm business which can be very profilable in this high demand blueberry market. Yes, we can send you a nice mix of varieties for an extended blueberry season, good cross pollination, etc. Most customers start off with 600 (1/2 acre) to 1200 (1 acre) of blueberry plants. AVAILABLE FOR PICK-UP or MAIL ORDER
3 Year-Old Big Bearing Blueberry Plants ($10.00) NOW ON SALE (5 plant minimum) these are blueberry plants that most home growers buy. Perfect for home berry gardening. Average homeowner buys 10 blueberry plants. Most buy more. Will fruit NOW. We have over 32 varieties available, more than anyone else. Yes, we will automatically send you nice blueberry plant variety mix for an extended blueberry season all summer long. AVAILABLE FOR PICK-UP or MAIL ORDER
6-8 Year-Old SUPER SIZE Large Mature Blueberry Bushes ($50.00) NOW ON SALE Edible landscapers love these for edible landscaping with blueberries. Our price is dirt cheap. These 6-7' FOOT TALL SUPER-SIZE BLUEBERRY BUSHES are the "Rolls Royce of Blueberry Bushes" Watch our blueberry farm video as we dig mature 8 year-olds for one of our many happy DiMeo berry plant customers. TURN UP YOUR VOLUME on this DiMeo blueberry farm video cause it's hard to hear at first. REMEMBER: IT WAS WINTER TIME AND BERRY BUSHES IN THIS VIDEO WERE FULLY DORMANT AND ALL WRAPPED UP:
BERRY PLANT GIFT CERTIFICATES ARE AVAILABLE UPON REQUEST
ORDER NOW FOR THE BEST SELECTION FROM OUR CURRENT INVENTORY AND LOCK IN OUR CURRENT SALE PRICES. SEE OUR "PRODUCTS" SECTION ON THIS WEBSITE FOR DETAILS ON VARIOUS BERRY PLANTS CURRENTLY ON SALE BY DIMEO FRUIT FARMS
Watch this DiMeo Fruit Farms & Berry Plant Nursery video of our Certified "Super Hardy" Big Beautiful Blueberry Bushes ordered by one of our satisfied repeat customers who owns a winery in upstate New York. He is making organic blueberry wine with our large mature blueberry plants. We made him an unbeatable wholesale blueberry plants deal on these mature blueberry bushes. Look at these beautiful giant blueberry bushes from DiMeo Fruit Farms & Berry Plant Nursery as we load up one of our actual blueberry grower customers. Nothing but the best blueberry plants for sale by DiMeo Farms:
DiMeo Fruit Farms is an old-fashioned family blueberry farm and "super fruit" berry plant nursery. You need to CALL US FIRST (609) 561-5905 to GET YOUR QUOTE and then we will provide you with detailed instructions on how to order blueberry plants or other berry plants from us. We prefer a quick phone call instead of all the e-mails.
The DiMeo blueberry farming family now in it's fourth DiMeo generation, owns several of the largest blueberry farms in the world, that (with all members of the DiMeo family and all various DiMeo-owned farms all combined) total over 1,000 acres of family-owned blueberry farms currently in production (with an average of 1,200 blueberry plants per acre) in the "blueberry capital of the world" Hammonton, New Jersey.
DiMeo Fruit Farms & Berry Plant Nurseries has helped thousands of home blueberry growers, private homeowners and backyard berry gardeners all across America to start growing fresh blueberries in their own backyard. Most of these families sell their organic blueberries (or other super berries) locally each summer to people looking for locally grown fresh organic blueberries. Locally grown farm fresh blueberries, raspberries, black raspberries and Aronia black chokeberries are the "dark fruits" trend. Our happy DiMeo berry plant customers are selling locally grown fresh blueberries and other "super berries" from $3.95 lb up to $6.79 lb for locally grown organic blueberries, raspberries, blackberries or aronia black chokeberries. Consider selling fresh blueberries direct from your own pick your own (PYO) blueberry farm stand like our DiMeo Farm Market roadside fruit stand that we used at The Annual Red, White & Blueberry Festival in Hammonton, New Jersey. Watch and listen to sponsor DiMeo Fruit Farms at the Hammonton Blueberry Festival "attended by over 15,000 bueberry lovers" from all across America. We are honored that so many of our repeat customers come out to support us:
Locally Grown Blueberries & Pick Your Own Blueberry Farms Start at Home with Experienced DiMeo Blueberry Farmers
Our DiMeo Fruit Farms Market & Berry Plant Nurseries were featured in The Press of Atlantic City as shown here with photo and May 2010 article. Well sell all the fresh organic blueberries, raspberries, and other natural "dark super fruits" such as Aronia black chokeberries that families drive hours just to buy from DiMeo Family Fruit Farms. We even sell all the best locally made farm fresh organic blueberry honey and 100% natural DiMeo blueberry jams from our roadside fruit stand down on our family farm.
Smart families who invested in "ultra-heavy bearing big blueberry plants" from DiMeo Fruit Farms & Fruit Tree Nursery are now selling up to 30 pounds of fresh organic blueberries, or up to $180.00 worth of quarter-size giant blueberries off of just one mature DiMeo blueberry bush. An annual income of $38,000 up to $50,000 per acre is common for pick your own organic blueberry farms that have mature DiMeo blueberry bushes, which is why our "berry smart" countless happy DiMeo berry plant customers are now planting their own pick your own blueberry farms to prepare an income stream for their baby boomer retirement years. There is no better investment (ROI) in this unstable world economy than blueberry plants. Blueberries that are "locally grown" are now in very high demand and food prices will continue to rise - this is only the beginning.
DiMeo Blueberry Plant Nurseries can teach you how to plant blueberries the proper way. Watch and listen to one of our fourth generation DiMeo blueberry farmers discuss how to space and plant blueberry bushes on our family blueberry farm. This is the spacing you should use for your PYO startup because planting farther apart is a waste of space:
Start Your Own Pick Your Own Blueberry Farm & Prepare for Retirement Income
Plant your own pick your own blueberry farms with DiMeo Blueberry Plant Nursery who has helped thousands of hard working families from all across America start growing blueberries with heavy bearing "super hardy" blueberry plants. These smart families are now growing fresh locally grown blueberries as a SECOND INCOME or a future pick your own blueberries farm business for their children or grandchildren. Most families plan to sell fresh blueberries, blueberry plants or other super berries at their local farmers market. Some families open their pick your own blueberry farm on weekends for a very profitable "locally grown" pick your own blueberries farm business that will be strong in this economy.
Let REAL experienced four generations of DiMeo blueberry farmers teach you how to plant blueberries and properly space blueberry bushes for your own pick your own blueberry garden just the one in this video below. Buy blueberry bushes direct from DiMeo Fruit Farms and learn from the pros just like these satisfied DiMeo berry plant customers did. Watch and listen to this DiMeo Fruit Farms video and see the higher quality of our family grown super-hardy "heavy bearing" DiMeo blueberry plants just like these:
Our Super Hardy Non-GMO Blueberry Plants thrive in hot summer heat down in the Southern States to over 120+(F) and are cold winter hardy up in the Northern States down to minus -40(F) up in Zone 3. Our DiMeo blueberry bushes are so cold hardy that we even have customers who drive down from Canada just to buy blueberry plants direct from the DiMeo family. As for lifespan of our blueberry plants, the blueberry bushes usually keep producing sweet, quarter-size blueberries for 30+ years or more. Our DiMeo family's farm has blueberry plants that are over 60 years old and still producing loads of giant sweet blueberries. When you order 100% Natural SUPER HARDY blueberry plants from DiMeo Fruit Farms & Berry Plant Nursery, our family will hand-dig big bearing size blueberry plants from one of our blueberry plant nurseries and prep them for pick-up at our family farm, just like we did for many of our satisfied DiMeo berry plant customers here on our happy DiMeo berry plant customers photo gallery with new photos.
Below is second generation "expert DiMeo blueberry farmer" Michael DiMeo (82 years-old) hand-digging big blueberry plants in November for one of our "home grower" backyard blueberry garden customers. Mike still works on the tractor in the DiMeo blueberry fields and DiMeo family blueberry plant nurseries till almost 9:00PM almost every single night to this very day. When you become a DiMeo customer, you can consult with a fourth-generation farmer at no additional cost.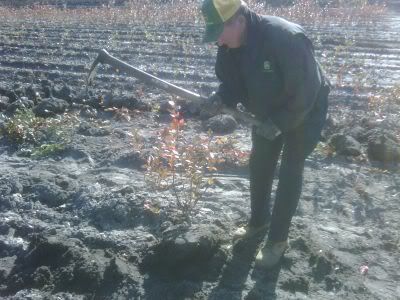 Discover the DiMeo Difference
Planting trust. Growing quality. Delivering success.
We offer the highest quality and largest variety selection of "ultra-heavy bearing" Non-GMO blueberry plants and other "super berry" plants within our family blueberry bush nurseries. Blueberry growers using DiMeo blueberry plants report exceedingly high survival rates and exceptional blueberry plant vigor. Since around 1895 the DiMeo family established successful blueberry farms that today (with all members of the DiMeo family and various DiMeo family farm owners all combined) total over 1,000 acres of blueberries currently in production with a total estimated number of over 2,156,000 blueberry plants. DiMeo Fruit Farms & Organic Berry Plant Nursery is one of the best blueberry plant nurseries in the world.
Experience
the DiMeo Farms advantage:
• Strong, super-vigorous, clean root systems in all of our blueberry plants
• Limited blueberry plant transplant shock
• Maximum carbohydrate storage
• Stronger canopy growth
• Increase blueberry bush vigor and faster overall blueberry production
• Ease of transplanting and planting blueberries with minimal or no losses
• Extreme uniformity of blueberry production
• Certified, healthy blueberry plants with "ultra-heavy bearing" blueberry yields
DiMeo grows the highest quality, highest yielding blueberry plants for growers of every size. NO ORDER TOO BIG OR TOO SMALL FOR DIMEO. Our low $10 blueberry plant PRICES for the size and age of our "much bigger" SUPER HARDY bearing-size blueberry bushes are tough to beat. Look at this video below and see the DIMEO DIFFERENCE with DiMeo's ULTRA-HEAVY BEARING blueberry bushes like these at our DiMeo family's IBF blueberry farms:
Read and watch DiMeo Blueberry Farms featured on NBC News TV featuring DiMeo Blueberry Farms in the media as our family is "the first family of blueberries" with the best advice and knowledge in the blueberry industry. As many have said, "DIMEO is the first name in blueberries." We are REAL OLD-FASHIONED EXPERIENCED BLUEBERRY FARMERS that will sell you higher quality blueberry plants and give you the best blueberry planting tips from our expert 4 generations of family blueberry farmers. A real global blueberry perspective and over 100 years of combined family blueberry farming experience makes the DiMeo's uniquely qualified to help optimize your success as a blueberry home grower or commerical blueberry grower.
Below is second generation expert DiMeo farmer Michael DiMeo, Sr. (82 years-old) digging DiMeo blueberry plants for one of our wholesale commerical blueberry growers. We hand-dig small "home grower" orders but we machine dig wholesale blueberry plants per order. NOTE: Below video was taken during the fall planting season, thus the blueberry bushes were going dormant and already had lost 60% of their leaves on this beautiful fall day in October:
Our SUPER HARDY blueberry bushes will bear LARGER, SWEETER BLUEBERRIES, are higher quality blueberry plants and will grow faster than any others. Our featured blueberry plants are Non GMO Heirloom varieties. NO PESTICIDES are needed to grow quarter-sized blueberries with DiMeo Blueberry Farms. Unlike others, our DiMeo certified blueberry plants are 100% Natural and are "ultra-heavy blueberry producers" made from only the finest production Grade A mother plants that have proven themselves to be heavy bearing; direct from a family of actual REAL blueberry farmers instead of those just selling tissue culture.
Very few still make 100% natural certified blueberry plants like DiMeo. Our DiMeo blueberry plants are NOT unnaturally MADE from tissue culture in a lab or greenhouse. Did you know that about 95% of our competitors buy their slow growing tissue culture blueberry plants in bulk from large companies that propagate (make) their blueberry plants in a lab? It's true. Almost all the berry plants online or even in "home improvement" retail stores are all made unnaturally in a lab. They go from the propagation lab, to a greenhouse, from the greenhouse to your house. Then guess what happens when you plant the un-hardy tissue culture plants outside when in fact they have never been outside before? Yes, most of them will likely die within a year becuase they are NOT hardy berry plants. Speaking of our competitors, almost all of these online nurseries, retail box stores, and "inexperienced online guys peddling plants out of their backyards" buy their slow growing (not as vigorous) tissue culture blueberry plants from propagation labs. Either that, or they take weak cuttings from cuttings because they don't have the many acres of certified "mother plants" required to properly make the berry plants. The berry plants they sell may look good (or may be cheaper) but WATCH OUT cause they are NOT hardy plants and you will likely end up losing up to 40% of your investment. Not to mention, tissue culture plants take twice as long to grow and any experienced blueberry farmer will tell you to stay away from tissue culture plants for these reasons. Remember that cheaper is not always better. Would you rather spend a little less money now, just to end up waiting up to another 3 years to enjoy a big bountiful crop of blueberries on your blueberry bushes? Of course not. Even big tissue culture plants = weaker, not as vigorous or hardy.
Watch this DiMeo Fruit Farms & Organic Berry Plant Nursery video and see the higher-quality blueberry plants from the best ultra-premium certified hardwood that our DiMeo family grows. Only the best and the right 100% natural old-fashioned way to make and grow blueberry plants that will be tougher super hardy blueberry plants. Below video will show you how high quality our DiMeo blueberry plants are from the very beginning. PLEASE DISREGARD THE MINIMUM ORDER THIS VIDEO STATES AS THAT IS NO LONGER THE CASE AS OUR MINIMUMS CHANGE ACCORDING TO OUR CURRENT INVENTORY LEVELS:
DiMeo Blueberry Farms & Berry Bush Nurseries makes SUPER-HARDY Non-GMO blueberry plants the old fashioned way, by hand, from ultra-premium hardwood. The kind your grandfather would plant in his own berry garden. Not tissue culture or unnaturally made plants from a lab.
Buy Ultra-Premium Non-GMO Blueberry Plants Now on Sale. BIGGER 3 YEAR-OLD BEARING BLUEBERRY BUSHES for only $10. DiMeo Blueberry Farms will help you grow large productive "ultra-heavy bearing" blueberry plants ready to fruit this season. CALL US NOW: (609) 561-5905 or e-mail us: dimeofarms@gmail.com to place mail order or schedule a berry plant pick-up appointment at our family farm. Get DiMeo Blueberry Farms & Berry Plant Nursery directions here.
DiMeo Fruit Farms & Organic Berry Plant Nurseries is a family blueberry farm and berry plant nursery that offers higher quality super-hardy blueberry plants (and other berry plants) that are made 100% naturally the old-fashioned way. Our family of experienced DiMeo blueberry farmers are committed to producing blueberry plants, mature blueberry bushes and blueberries that are HEALTHY and SAFE for your family. We are an environmentally friendly, gentle, NO PESTICIDE blueberry farm that helps home gardeners all over America to organically and naturally produce large productive blueberry bushes that bear LARGER and SWEETER BLUEBERRIES all season long! Watch this DiMeo Farms video and see the quarter-size and high yield of DiMeo blueberries from DiMeo blueberry plants even after they were picked 4 times during blueberry season:
Learn more about Ultra-Premium Non-GMO DiMeo Blueberry Plants with DiMeo Blueberry Farms & Berry Plant Nursery and learn about the blueberry super fruit and amazing health benefits of blueberries, especially in growing organic blueberries at home.
Satisfied DiMeo Berry Plant Customer Experience Videos
DiMeo Blueberry Farms Reviews with PHOTO REVIEWS and HIGH RATINGS by our happy berry plant customers. Just a few photos of which are featured here on our Happy DiMeo Berry Plant Customers Photo Gallery
"Thanks for helping me start my own pick your own blueberry farm. I planted a u-pick blueberry field and now so many people come in the spring just to take pictures of their kids in the field of white blueberry bloom. Excellent crop yield and the blueberries bloom such beautiful white "wedding bell" flowers. Your 2,000 DiMeo blueberry plants are doing so well. Growing bigger blueberries now with your plants, double the size of the blueberries I previously had planted in my blueberry fields. Thanks for all your growing tips and great DiMeo Farms customer service."
- David L. (Naperville, IL)
Here's an actual video of us loading David's wholesale blueberry plant order at one of our berry plant nurseries. We gave him a great low price for his blueberry plants, and we can do the same for you just as we did for this satisfied DiMeo customer. Notice how healthy our blueberry bushes are with large root systems so you hit the ground running with DiMeo's Blueberry Bushes Nursery:
"I'm a soon-to-be retired science teacher who bought over 500 blueberry plants direct from DiMeo Fruit Farms & Berry Plant Nurseries and I must say that the they were were not only in great shape, the best blueberry plants I have ever seen. Next year we plant to order 500 more blueberry plants from DiMeo Fruit Farms & Nursery as we are starting our own pick-your own organic blueberries business for extra family income after my retirement in a couple years. I highly recommend DiMeo Berry Plant Nurseries as they know how to grow the best blueberry bushes hands down. Ask for my direct contact information and I will personally recommend DiMeo and tell you about my great DiMeo Blueberry Farms experience in Hammonton."
- Rob E. (York, PA)
Here's an actual video of Rob loading his heirloom blueberry bushes in his horse trailer, PLEASE NOTE THE DESIGN OF THIS HORSE TRAILER TWO-TIER SYSTEM WHICH YOU CAN EASILY DESIGN if you want to pick up high-volume of wholesale blueberry plants at our DiMeo blueberry bush nursery without having to pay $5 bucks a mile for a tractor trailer to haul them to you. Rob, a soon to be retired Science teacher, designed this for his horse trailer. We had lots of laughs with Rob:
"These 25 organic blueberry plants I just purchased from DiMeo Fruit Farms & Berry Plant Nursery are large and hardy, yet only $10 per blueberry plant. That is so much less then any others I've seen. Hardy blueberry bushes, and detailed care for blueberries instructions were provided. Postive DiMeo Blueberry Farms experience, as they were very helpful with all my blueberry plant questions. No DiMeo Farms complaints here -- Thank you."
-Terry G. (Philadelphia, PA)
"Your 80 beautiful mature SUPER-SIZE blueberry bushes (see fall foliage sample video above) made a wonderful Edible Blueberry Hedge Row along my fence line between my berry garden and my home. I'm glad my landscaper recommended edible landscaping with blueberry bushes on my property. I just love the vibrant red wine fall colors of blueberry bush foliage. My husband had the pleasure of driving down to personally pick up these blueberry plants and greatly enjoyed his visit with the DiMeo family and farmers. Highly recommended. Great DiMeo Blueberry Farms experience. Nice people."
- Sarah B. (Boston, MA)
Here's an actual video of Sarah's husband and his neighbor who drove down from Massachusetts to buy large mature blueberry bushes direct from our experienced blueberry farmers at DiMeo Farms. NOTE: THIS VIDEO WAS TAKEN DURING EARLY SPRING PLANTING SEASON, THEREFORE THE BLUEBERRY BUSHES WERE DORMANT AND HAD NO LEAVES:
"The DiMeo family blueberry farm DiMeo Fruit Farms & Berry Plant Nursery had just the perfect 4' foot blueberry plants that my wife and I were looking for to start our own Pick Your Own blueberries business in our hometown. We are buying 650 DiMeo blueberry plants this fall and are coming back to buy another 650 DiMeo blueberry bushes next spring. Excellent customer service in helping us fly out to the DiMeo farm with DiMeo even helping us to rent a Budget rental truck to drive our new berry plants investment back home. Tour of the farm was great. Really helped us to visualize our own blueberry field planning ideas."
-John R. (LaPorte, IN)
Here is an actual video of John and his wife picking up their DiMeo blueberry bushes at our retail blueberry plant nursery. As you will see, our DiMeo blueberry plants are EXTRA-LARGE and SUPER HARDY blueberry plants. These are clearly higher quality blueberry bushes. Just watch and listen as we load up one of our countless happy repeat DiMeo blueberry plant customers just like John and his wife from Indiana:
"We purchased a 10 blueberry bush gift certificate from DiMeo Fruit Farms & Berry Plant Nursery and gave it as a wedding-house warming present to my best friend and her new husband. They LOVED the original blueberry plant gift idea and now every time we visit them, they bring up how well the blueberry plants are doing! They did so well that just this year we decided to start our own pick your own berry farm and drive out to meet the DiMeo family and pick out our blueberry bushes. Great people. Amazing berry plants."
- Nicole B. (Charlotte, NC)
Here's an actual video of us loading up Nicole and her husband who drove up from North Carolina to personally tour one of our DiMeo blueberry plant nurseries and family blueberry farms in "the blueberry captial of the world" Hammonton, New Jersey. They wanted hardy blueberry plants with nice root systems that are ready to fruit now:
"I've been very impessed with DiMeo Fruit Farms & Berry Plant Nursery from the very first day that my father and I flew in from Kentucky to tour the DiMeo berry plant nurseries as well as DiMeo blueberry farms. Mr. DiMeo spent as much time as we needed with us to help us get started with our new organic blueberry farm. We were so happy with the berry plants we bought last year that we just bought an additional 3,000 blueberry plants this fall. I highly recommend DiMeo Berry Farms and will give referral upon request. Thanks again."
- Dustain V. (Glasgow, KY)
Here is an actual video with Dustain (who is actually a police officer in Kentucy) who is preparing for his post-retirement income by starting his own organic blueberry farms. He came down to pick up his order and had a great DiMeo blueberry farms experience. Just like countless repeat DiMeo berry plant customers Dustain now joins the list of many across the country and internationally as well. NOTE: THE BELOW DIMEO VIDEO WAS TAKEN DURING THE FALL AND LEAVES WERE STARTING TO CHANGE COLOR:
"We had a great DiMeo Farms experience with no DiMeo Farms complaints at all. We needed our blueberry plants shipped in fall when the DiMeo's were busy with fall blueberry planting season, but the friendly DiMeo farmers took the time to not only give us a tour of the DiMeo berry plant nurseries but also give us free blueberry planting advice. DiMeo loaded our almost dormant blueberry bushes onto large tractor trailers and shipped quickly with any problems."
- Matthew E. (Baraboo, WI)
Here's an actual video of us loading Matthew's order of DiMeo organic blueberry plants for this repeat DiMeo customer during fall when the blueberry bushes were going dormant and losing their vibrant red colored leaves. NOTE: ONCE AGAIN THE LEAVES WERE CHANGING COLOR DURING THE FALL SEASON IN THIS DIMEO BERRY PLANT NURSERY VIDEO:
A Warm Welcome from our Family to Yours
Dear Friends and Berry Growers,
All of us at DiMeo Fruit Farms & Berry Plant Nurseries strive to bring you the very best Non-GMO berry plants on the market today. We provide you with the most complete berry planting instructions & berry farmer tips for success. We want you to be 100% satisfied. Our higher quality, certified disease and virus-free berry plants have produced the most satisfied repeat customers. Just look at our happy DiMeo berry plant customers photo gallery of some who drove out and flew out to personally meet with us tour our operation.
We aim to bring the healthy, safe, home grown aspects of farm living into your daily lives. We hope to teach you our time-tested old-fashioned blueberry farming techniques and ways to live a simpler and more healthy lifestyle. Sometimes "going back" to the way it was before makes more sense in today's world. It's like going ahead and moving forward with the best Non-GMO Berry Plants by DiMeo Fruit Farms. In these uncertain and unstable economic times, growing your own blueberries and other Non-GMO organic berries is both satisfying and economicial. Nothing tastes better than fresh blueberries picked in your own backyard. Let our family farm help you "return to the land" for a better self sufficient lifestyle for you and your family. Always remember to know your farmer and know your food source. Growing your own berries is playing it safe.
We welcome you to drive out (or fly out) to personally tour our impressive DiMeo operation (by appointment only) to see that our DiMeo berry plant size, quality and low prices are far better than any others. Within the first 90 seconds of your tour of our farm and berry plant nursery operations, you will see the DiMeo difference just like these happy DiMeo berry plant customers did when they arrived at our family farms.
We look foward to hearing from you and helping you get started with our expert advice and guidance. We appreciate your business. May God bless you and all those you treasure.
- A. DiMeo & Family
---
Organic Peat Moss for Sale
If you need to buy peat moss (even if it's just one bag) or in high volume then we can get you the best peat moss price for large commercial size peat moss bails. We only ship large orders of peat moss (26 pallets per trailer with 30 on each pallet) but you if you pick-up your peat moss order at our blueberry plant nursery, then you can certainly buy the best peat moss direct from our DiMeo family farm. We are usually well stocked with the best 100% all natural peat moss, just like this recent load that we got in from our trusted peat moss supplier that our entire DiMeo berry farming family has been dealing with for many decades:
Blueberry Planting Sulfur for Sale & Sand
Our pelletized "slow release" certified organic garden sulfur is an acidifier that will optimize the soil pH for growing the best blueberries. For mail orders, we will ship you some organic garden sulfur for a fair price. For larger amounts of garden sulfur, you will need to pick up the planting sulfur by the 50lb bag at our blueberry nursery here at our family berry farm. Let us know ahead of time if you intend to buy garden sulfur for blueberries when you arrive. This way we can make sure we have it in stock before you get here and have enough ready for you.
We also will sell you high quality BLUEBERRY PLANTING SAND as well if you don't have enough sand in your blueberry planting area. Once again, just let us know ahead of time if you need to buy blueberry planting sand and we will prepare the blueberry sand for you in advance. This includes those of you who intend to plant blueberries in containers or pots because you can use our planting sand (70%) and mix it with peat moss (30%) for a good soil mix for planting blueberries.
3101 Nesco Road
Hammonton, New Jersey 08037
ONE CALL, ALL YOUR ANSWERS. CALL NOW FOR A QUOTE.
(609) 561-5905
www.DiMeoFarms.com
Read DiMeo Blueberry Farms Reviews with positive reviews it's no wonder we were voted into the Circle of Excellence with no DiMeo Farms complaints from our happy berry plant customers, just a few of which are featured here on our new happy DiMeo berry plant customer photo gallery which is now growing every day since we finally just starting taking some pictures of our happy DiMeo customers that drove out (or flew out) to personally pick-up their orders.